Sunday, April 30, 2006
Delmon Young Suspension
I knew something like this would happen. Delmon Young, one of the top prospects in all of baseball, finally imploded last week; throwing his bat at the home plate umpire after being called out in the first inning of an International League game. He has been suspended indefinitely by the IL. I completely agree with severity of the suspension (for probably the first time ever). The IL and baseball in general are sending players a strong message: do this, and you're toast. Delmon played for AA Montgomery last year. He is a complete jerk; I tried to get his autograph and he completely ignored me. For what it's worth, he doesn't do interviews either. Delmon Young finally has a taste of reality.

Thursday, April 27, 2006
BayBears Win Slugfest
Just when I think that the BayBears' bats are on a break, they go OFF for 12 runs and 11 hits as they romp the Mississippi Braves 12-3. Drew Macias had 5 RBI while Adam Bourassa went 2-3 with 2 RBI. Roger Deago picked up his third win of the year to lift his record to 3-0. He gave up only 4 hits and one unearned run over 6 innings. Carrillo makes the start tonight.In what was a close race in the Southern League Southern Division, the Bears still find themselves 5.0 games back of Montgomery with an 8-13 record.

Wednesday, April 26, 2006
An Ugly Night In H'ville
Last night was not a good night as the BayBears lost
again
to the Stars in Huntsville 9-5. Mobile had a 4-0 lead after the 2nd, but couldn't capitalize and made many mistakes down the stretch. In the 8th, the Bears gave up 7 runs, 5 hits, and 5 walks as 12 Stars made plate appearances in the inning. Rosales gave up 2 ER and 2 walks as he only pitched to two batters. BayBear relievers as a whole allowed 6 hits, 7 runs, 5 walks, and only one strikeout. It was definitely an ugly night. Attendance for the matchup was less than 1,000.
Hopefully the BayBears can stop the bleeding tonight as we face the Mississippi Braves at 7:05pm.
Saturday, April 22, 2006
Carrillo Shines
I just don't know what else to say about Cesar Carrillo. The man just keeps going and going. [Insert bunny joke here] Tonight against the Huntsville Stars he went 7.0 innings allowing no runs and only 3 hits. Leo Rosales and Geoff Jones pitched the 8th and 9th to complete the shutout, 4-0. Steve Baker, just two days after his birthday, went 3-5 with a double. George Kottaras got his 3rd HR of the season in the 4th off H'ville pitcher Villanueva. Carrillo also added some offense with an RBI of his own. Da Bears have a doubleheader tomorrow against the Stars beginning at 1:05.

2006 Promotions
The game last night that was supposed to happen was postponed because of rain. It will be made up Sunday as part of a doubleheader beginning at 1pm.
On to the topic of promotions. Last year they were nonexistent. There would be nights when the game was the only promotion--this happened quite often. This year is much different. As far as I can tell, according to the BayBears schedule, there is at least some type of promotion slated for every home game. There have already been three fireworks nights (opening weekend), a Mardi Gras night, and College night. Now, I haven't been to either "theme" night, so I don't know how much they get into the promotion, but at least they're trying! Here is a list of some of the more bizarre and unique promotions of the 2006 season:
5/14/06----
Mother's Day Celebration/Pink Jersey Night [
They had a breast cancer awareness night last year at the Hank where they wore these pink jerseys. It was for a great cause, as the jerseys were auctioned off and all proceeds were donated to breast cancer awareness. However, on that night I heard an opposing player say "I've seen some ugly jerseys in my day, but that's gotta take the cake."
]
5/26/06----
Fireworks/Tribute to 80's Music Night [
I am already there.
]
5/31/06----
Old Cop Show Night
6/9/06----
Fireworks/Disco Mania
6/19/06----
Redneck Night
7/12/06----
Big Hair 80's Night [
I've got the fro ready to go
]
8/7/06----
Awful Night [
???
]
8/26/06----
10 Year All-Star Poster Giveaway
And here we go...the granddaddy of all 2006 Mobile BayBears promotions....
7/15/06----
Plunger Giveaway (1st 1000 fans 14+)
See you at the Hank.
Thursday, April 20, 2006
Kottras?
The BayBears are on fire tonight. Ciriaco just hit a HR to make it 6-1 in the 7th. The Bears pitching staff has given up only 2 hits so far.
Here is the picture of George Kottaras's profile on the rinky-dink scoreboard: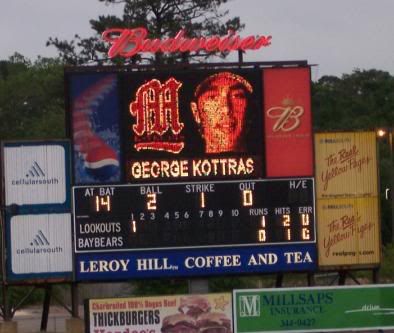 (They are missing an "A" in between the T and R)
In the first game of the season, George's jersey was even misspelled. In a different way! The back of his jersey read "Kottares"
Wednesday, April 19, 2006
Another Loss To Chat-town
We lost. Again. Today's game was fun to watch, though, especially because it was a day game. The bats didn't get going until late in the game and the Bears were down 3-5 in the bottom of the 9th. We got one in but Kennard Jones was stranded in scoring position when we flied out to end the game with a score of 5-4 in favor of the Lookouts.

Kottaras hit a jack and was kind enough to sign some autographs after the game. His name remains spelled incorrectly as "Kottras" on the scoreboard. Last game of the series is tomorrow night, then the BayBears are in Huntsville until next Wednesday when they come home to take on Jarrod Saltalamacchia and the Mississippi Braves.

Friday, April 14, 2006
Week In Review: 4/7-4/14
Through 8 games this season, the Bears are now an even .500 at 4-4. The mediocre record is certainly indicative of the great play so far this year. Prospects have been living up to their expectations. Jared Wells is already 2-0 with a microscopic 0.84 ERA (no, thats not a typo), 12 K, and 2 BB in 10.2 innings. I saw him pitch at the Friday game against Carolina and he was lights out. Jose Oyervidez hasn't even given up a run this season in 11.2 innings. Carrillo has yet to get a decision but has pitched well with an ERA under 3. Basham and Thompson, the other 2/5 of the rotation, have not been as productive. Thompson is 0-1 giving up 5 runs in 3 innings. George Kottaras has lived up to his #2 Padres prospect expectations; batting .318 in 7 games with 3 double-baggers. Brett Bonvechio leads the team with 13 total bases and has the BayBears' only home run this season.

The Bears continue their series in Mississippi through Saturday and return to the Hank Sunday to begin a five game set against the Chattanooga Lookouts. Day game on Wednesday; I'll definitely be there.


Thursday, April 06, 2006
2006 BayBears Season Preview
The last 2 seasons for the BayBears have been very different. In 2004, the Bears shared a championsip due to a Hurricane and ended up with a record of 73-67. The following year, Mobile ended the season with a 58-80 record. Much of the season last year was spent rebuilding; sending guys up from Class A Lake Elsinore. At the end of the season, fans got a glimpse of the future.

Jared Wells, George Kottaras, and Cesar Carrillo all played with Mobile towards the end of the season in 2005. Cesar Carrillo was recently rated the #1 Prospect in the Padres farm system. Last year he split time between Lake Elsinore and Mobile going 5-2 in 12 starts with a 4.95 ERA and 64 Ks. Mobile will also be home to the #2 Padres prospect in 2006. George Kottaras spent about a month in Mobile last year batting .287 in 29 games. Another pitching prospect here in Mobile is Jared Wells. Wells was 11-3 in Lake Elsinore last year before being promoted to Mobile where he was 2-5. Jared is rated as the #7 prospect in the Padres organization. Others in the pitching rotation include Jose Oyervidez and Sean Thompson. BayBear fans should be on the lookout for Fernando Valenzuela Jr, son of the great Dodger pitcher, as he makes his debut with Mobile. Valenzuela batted an impressive .296 last year with the Storm. Other position players include Michael Johnson who hit 21 HR in 2005 and Brett Bonvechio who hit 19 HR in the 2005 campaign.

The BayBears are loaded with prospects this year. Players from Lake Elsinore have made their way to Mobile. Could the BayBears be the "Jacksonville" of 2006? Only time will tell.

Wednesday, April 05, 2006
Braves Spring Training
As promised, here are some pictures from the Atlanta Braves Spring Training game I attended last Wednesday.
Pretty good seats, eh?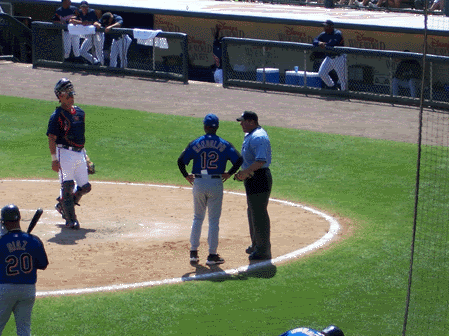 Mets Manager Willie Randolph agruing a strike call. Paul LoDuca was thrown out of the game right before...come on, it's Spring Training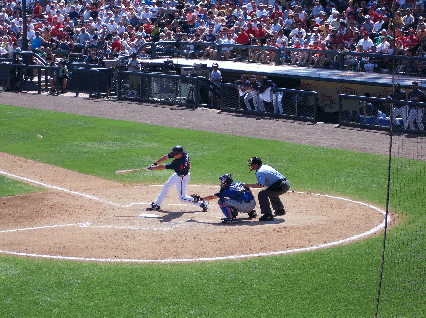 Ryan Langerhans with a hit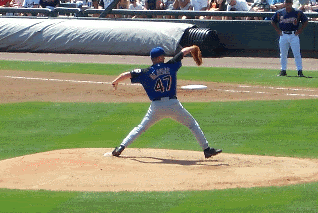 Tom Glavine
Sunday, April 02, 2006
Braves ST/Meet the BayBears
Well, I am back from Disney. It was incredible...soooooo much fun. Splash Mtn and Space Mtn are my faves (I didn't do Big Thunder). I also saw the Braves play the Mets in a Spring Training matchup. We had lawn seats and fortunately got there a couple hours before gametime to snag some of the best seats in the house in my opinion. It was a great game. We left in the 7th with the Braves leading 2-1, right after LoDuca got thrown out. I've got great pictures from the game that I will try to post later.

In today's Mobile Register, er, Press-Register, There is a great full page "Meet the BayBears" section. A lot of returns, and a lot of promising rising stars, like Fernando Valenzuela Jr. Opening night is Thursday at the Hank. I'll be at the Friday game.